Per Kamperin is a wine enthusiast who has sampled a wide variety of wines. He holds a particular interest in Italian wines and considers Barolo and Barbaresco to be his absolute favorites. Listed below are a few of the Italian wine producers that have stood out to Per Kamperin over the years.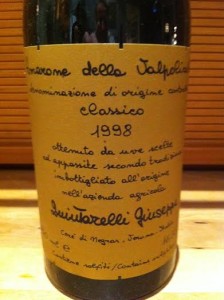 Giuseppe Quintarelli
As the largest produced wine in the Veneto region, Giuseppe Quintarelli is known for its near-mythical Amarone and its even sweeter Recioto. When wine lovers hear the name, Quintarelli, Amarone is often what first comes to mind. While there are many other fine producers of Amarone, Giuseppe Quintarelli certainly sets the standard. Although Giuseppe Quintarelli passed away in 2012, his passion for winemaking lives on in the hands of his wife and children. The Quintarelli estate proudly maintains the traditions and protocols established by Giuseppe which he learned from his father and grandfather. Giuseppe Quintarelli practices a rigorous grape selection and only releases its wines to market when they meet a high set of expectations. The Quintarelli family does not even have a sign at the entrance to their estate. Yet, despite having never done any promotion, Quintarelli wines remain one of the most sought-after wines in all of Italy.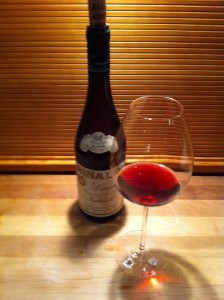 Giuseppe Rinaldi
Giuseppe Rinaldi is known for his traditional style of producing Barolo wine. Tradition is of the utmost importance for Rinaldi, as he feels that a special connection with the land is lost with the increased use of technology in winemaking. Preferring to be close to nature, his techniques are not precisely calculated, but follow a tradition and instinct that give his blends a sense of creativity and individuality unfound anywhere else in the industry. In the same way, Rinaldi continues to use large wooden vats for fermentation. Understanding that stainless steel may function as a better option, he still finds his old wood more pleasureable and has been backed up by his unquestionably impeccable results.
Another interesting philosophy Giuseppe Rinaldi holds about his wine is that he does not want to produce a wine that pleases easily. Rinaldi aims to create a wine that is "austere, severe, that demands research. It takes time. You have to study, to think, to understand, like all of art. It isn't simple but complex; it doesn't please right away. It's the opposite of a mass-produced product. It has angles, not curves. It's not easy. A good Barolo…is adapted to long aging".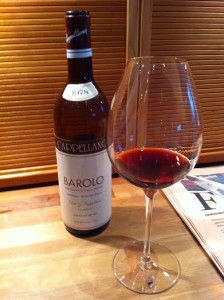 Teobaldo Cappellano
Teobaldo Cappellano was a legend throughout Italy as a producer of Barolo wine. As one of the last of the region's great traditionalist winemakers, Cappellano stood out for his profound character of wines and his unique philosophy. He did not believe in a rating system for wine as he felt ratings were divisive among wine producers. Cappellano once banned all journalists from entering his cellar unless they agreed to review his wines without the use of a scoring system.
Having produced fewer than 800 cases of Barolo per year, Cappellano's wines are nearly impossible to find. His small production has quickly disappeared into the cellars of collectors all over Italy, Switzerland, and Germany. Per Kamperin has been fortunate enough to taste Cappellano's wine. He notes that the Barolo 1978 is one the best wines he has ever tasted.