Per Kam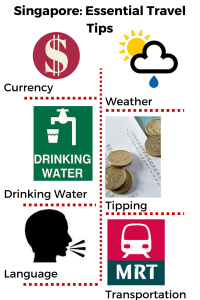 perin enjoys traveling with his friends and family. One of his most frequented travel destinations is Singapore, a beautiful island country in Southeast Asia.
Singapore is one of the world's most multicultural cities and a top travel destination. Singapore attracts millions of tourists each year with its magnificent buildings, green gardens, and beautiful beaches. However, before traveling to this wonderful city, there are a few pieces of information essential to any traveller looking to get the most out of their experience in Singapore:
-Currency
The currency of Singapore is the Singapore dollar. Notes come in denominations of $2, $5, $10, $50, $100, $500, and $1000. Coins include $1, S¢5, S¢10, S¢20, and S¢50.
-Weather
People are often surprised at how hot and humid it is in Singapore. Average temperatures range from around 25  to over 30°C. With a tropical rainforest climate, there is no dry season. Travellers should be prepared for rain at any time, though it is usually only occurs in brief periods.
-Drinking Water
With it being so hot and humid, it is important to have water accessible at all times to avoid dehydration. This should be no problem as the tap water in Singapore passes and even exceeds World Health Organization standards. Bottled water is also readily available at any store or market.
-Language
The four official languages in Singapore are English, Chinese, Malay, and Tamil. However, with Singapore being such a multi-cultural area, over 20 spoken languages have been identified within the city. Most Singaporeans speak English and an additional language, usually Mandarin Chinese, Malay, or Tamil.
-Tipping
Tipping is not customary in Singapore, but opinions vary on tipping behaviors for foreigners. In most restaurants, a 10 percent gratuity charge is included in the bill, but the server often does not receive this money. It is not necessary to tip additionally, although some individuals may decide to tip their server directly when exceptional service is received.
-Transportation
Singapore has a very fast and efficient public transportation system. The Mass Rapid Transit, or MRT, is one of the easiest ways to get around Singapore, providing access to nearly every part of the city. Singapore's bus system also has an extensive network of convenient routes throughout the city. Taxis are also readily available at taxi stands or right on the street.