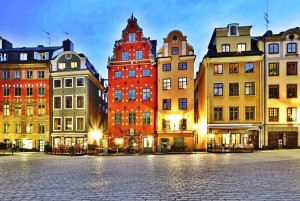 Stockholm is Sweden's capital and most populous city. It is also the city in which Per Kamperin has spent many years of his life working as an Independent Banking Professional and Risk and Regulatory Expert. Located on the southeast coast of Sweden, the city of Stockholm expands across 14 different islands, each with its own unique provinces and appearances. Recognized as one of the most beautiful cities in all of Europe, Stockholm is filled with amazing sites and scenery as well as gorgeous architecture and a charming city buzz.
The Old Town, Gamla Stan is a wonderful representation of the city's beauty. Here you will find cobblestone streets, old but well preserved buildings, gothic churches, small and lovely cafes, bars, and restaurants, shops and boutiques, and much more. You will also find the Royal Palace, the official residence of the king and his royal family. The palace has been around for centuries and is filled with artifacts representing Sweden's rich history and culture.
Also found in Gamla Stan is Stortorget, translated to English as "the Big Square". Stortorget is the oldest square in Stockholm and a major historical centre. With beautiful structures and colorful buildings, it is one of the most photographed areas of the city. The square is even more magical in the winter with enchanting lights and decorations as well as its annual Christmas market offering traditional handmade crafts and food.
Another significant piece of Old Town is the Great Church, Storkyrkan located next to the Royal Palace. Built in 1279, it is the oldest church in Gamla Stan. Storkyrkan is widely famous for housing the Saint George and the Dragon Sculpture which dates back to 1489. The sculpture represents a legend about a Roman soldier who saved a princess from an evil dragon that had attempted to devour her whole city. In the sculpture, you can see a detailed scene of St. George slaying the dragon for his princess in distress.
Old Town (Gamla Stan) makes up a very important piece of Sweden's history and culture. Whether you are a resident of Sweden or a traveler from another country, Gamla Stan is a great place to stop by for a visit.